WHIRLWIND
Référence : 136
---
---
Decorative tops in obsidian and solid silver made by Roland Daraspe, goldsmith and Master of Art. Obsidian is a volcanic glassy rock that forms from very thick, silica-rich lava flows.
Length : 9.45 in / 24 cm
Height : 12.2 in / 31 cm
Width : 9.45 in / 24 cm
Weigth : 11.02 lb / 5 kg
Secure Payment
Delivery Cost
Category : Decorative objects, Objects of virtue
Artist : Roland Daraspe
Materials: Obsidian and solid silver 925/1000e
Obsidian is a volcanic glassy rock composed of silica, which is found in many volcanic regions, including France in the Massif Central. According to Aztec legend, Mother Earth created the moon and stars with an obsidian blade. In lithotherapy, obsidian is a stone of protection against negative emotions that allows to find calm and inner peace.
Weight : 5484 grams (silver: 260 grams)
Edition: 8 copies (N°3/8)
Guarantee: Signed and delivered with a certificate of authenticity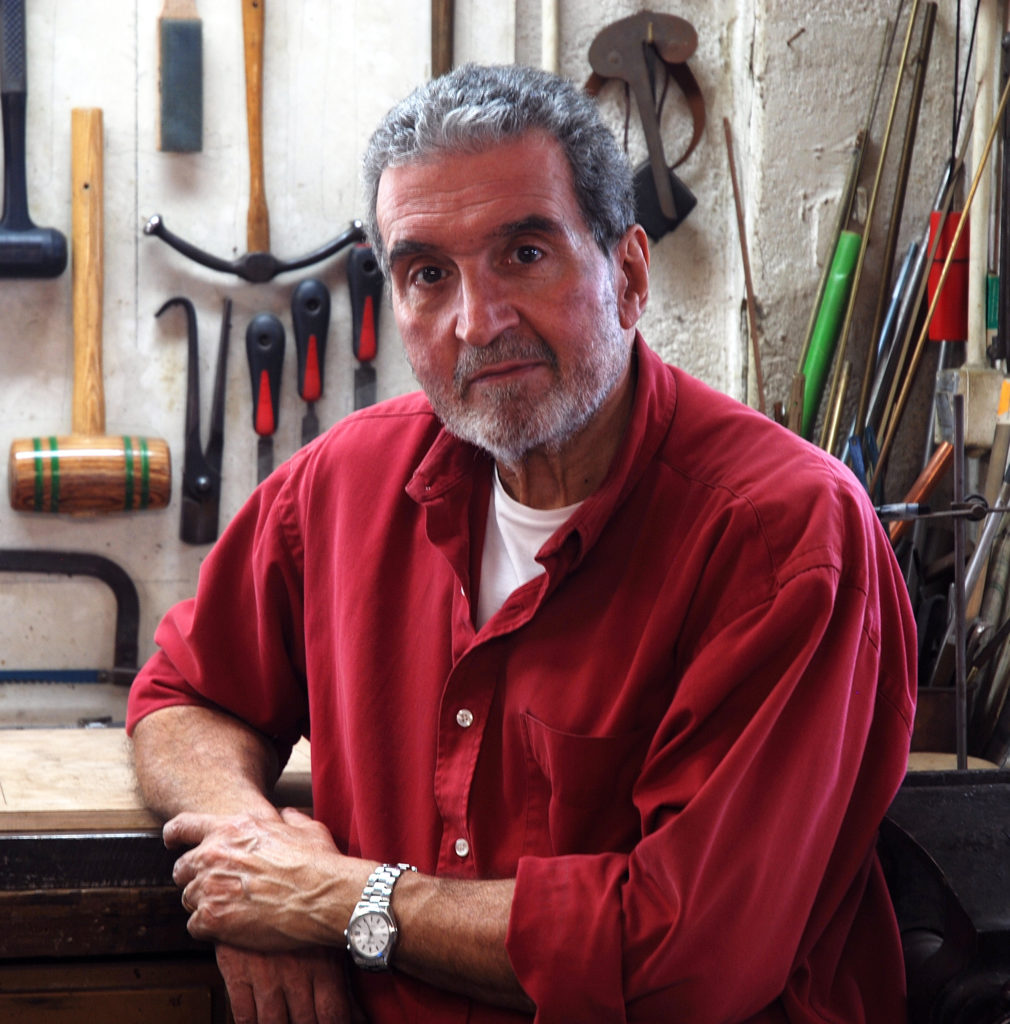 Roland Daraspe, silversmith and Master of Art, was born in 1950. He lives and works near Bordeaux. Boilermaker by training, then aeronautical mechanic, glassmaker with an American artist, and finally goldsmith! Roland Daraspe made jewelry and then continued with metal since he had originally learned this technique. Then there was natural evolution, constantly challenged. The uncertainty of creation, but the certainty of being … In 1992, a fifteen-year retrospective of his work was presented by Jacqueline du Pasquier, chief curator, at the Museum of Decorative Arts in Bordeaux. This recognition increased his motivation tenfold and the increasingly demanding orders that followed spurred his imagination, forced him to constantly push back his limits, to strive for more research and achievement. The same museum crowns the work of maturity in 2008. Numerous prizes and reception at the Academy of Sciences, Belles Lettres et Arts de Bordeaux punctuate the career that his peers have recognized as that of a contemporary artist. Now we recognize his style – a balance between momentum, lightness, and strong evidence. Something rather timeless, too, without his consciously seeking it out.