OAK ONEOFAKIND GALLERY TOULOUSE, SPRING/SUMMER 2023 COLLECTION
In this exceptional space in the historic heart of Toulouse, Antoine Vignault presents
TRAVEL DIARIES
Drawings by Sylvie Peyneau, tapestries and garden pots by Studio OAK artists, lacquered wood garden furniture by Umberto Pasti and functional sculptures by Yves and Benjamin Pagart in bronze and fine essences.
Exhibition from May 25 to July 13, 2023
The gallery also hosts the clouds of shells by Sophie Brillouet, ceramics by Béatrice Garrigo and Dainche, the functional sculptures of Hoon Moreau and Clotilde Ancarani. A décor enriched with new vintage collector's items by Emmanuelle Vidal , Antique dealer specialized in design from the 1950s to 1980s: Gio Ponti, Angelo Mangiarotti, Mithé Espelt, Paul Mc Cobb or Gaetano Pesce
.
In parallel with his collector's apartment, Antoine Vignault opens a new space of 80m2 dedicated to Art and Design installed in the old kitchens of a listed house of the fourteenth century. A panorama of singular artists: designers, painters, sculptors, craftsmen, photographers and ceramists, gathered in a unique structure dedicated to the promotion of their work in Toulouse and well beyond the borders of France. Antoine Vignault invites his talented artists to develop a reflection on the timeless character of their works, in the footsteps of the Sacred in contemporary creation.
OAK ONEOFAKIND GALLERY : 2 PLACE MONTOULIEU, TOULOUSE – FRANCE
Wednesday to Saturday from 14.00 to 19.00 h or by appointment

News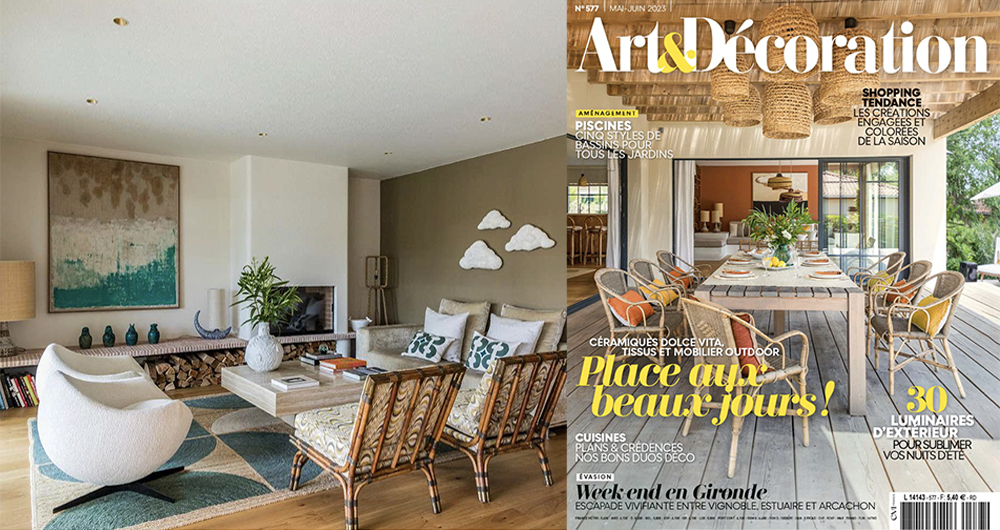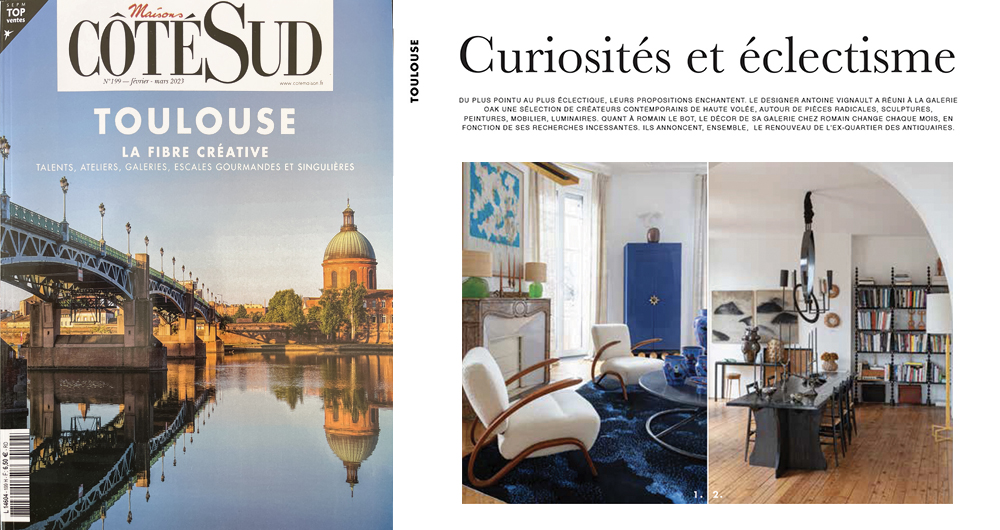 Page 57, 65, 70, 71, TOULOUSE AND ITS CREATIVE VIBRATIONS, Béatrice Pontacq in her house-workshop tells us about her work. By Virginie Bertrand, photographs by Pierrick Verny.
From the most sharp to the most eclectic, their proposals are enchanting. the designer Antoine Vignault and the antique dealer Emmanuelle Vidal have gathered at the oak gallery a selection of contemporary creators of high quality, around radical pieces, sculptures, paintings, furniture, lighting. A new gallery will open Place Montoulieu in the spring in collaboration, for the vintage part, with Emmanuelle Vidal.
Focus on
GRAND VASE VERT AUX OISEAUX NOIRS ET ROUGES
SIDE BOARD NOBODY'S PERFECT, GAETANO PESCE (2002)
OAK ONEOFAKIND is an online gallery that brings together Art and Design through a selection of paintings, sculptures, photographs, furniture and rare objects made by contemporary artists as well as antiques of the twentieth century found and restored by Emmanuelle Vidal. These works and furniture by artists are inspired by the stories, myths and legends that are the common ground of civilizations, letting their symbols emerge since the dawn of time. Antoine Vignault, gallery owner and designer, exhibits this unique selection in his gallery Place Montoulieu in Toulouse. The decoration of the place evolves according to its discoveries and the favorites of its customers. Art and design exhibitions follow one another throughout the seasons in these inspiring landmarks for architects, decorators and collectors of vintage and contemporary art and furniture .