A BIGGER SPLASH
A summer that drags on, a few more hours of sunshine and a last dive before the first chills of Autumn. Galerie OΔK Toulouse welcomes the macro-photographs of Eloi Ficat, an ode to light and water, the poetic furniture of Umberto Pasti and the organic luminaires of William Guillon.
Of water, air and light, Eloi Ficat'sphotographs challenge us with their metaphysical dimension evoking both the infinitely large and the infinitely small. The abstraction generated in the lens under the artist's eye are all ajar doors to fascinating and unknown universes. Air and water bubbles, sunny reflections, the décor is set. Umberto Pasti's furniture is in turn invited in a "winter garden" way. The sensual curves of the brightly colored lacquered arbutus branches blend brilliantly with the refined bronze foliage of Clotilde Ancarani and the sculptural chrysalises of William Guillon.
William Guillon's LV 426 collection reveals influences marked by space and science fiction and required several months of development. Each piece is hand-carved by the artist before being cast in bronze in a French foundry. All pieces are unique and their shapes, finishes (patina and polishing) can be adapted and customized on demand. The lampshades are made in a porcelain workshop in Limoges, the city that historically holds the highest know-how in this field. Each porcelain cocoon is handmade and gives the structure a mineral look. They are all unique and diffuse a soft and warm light in the room.
Galerie OAK offers a selection of the works of its artists and vintage pieces presented by Emmanuelle Vidal and welcomes by appointment at 8 Allée Frédéric Mistral in Toulouse.
Visit by appointment exclusively from Monday to Saturday from 14.00 to 19.00h
Information contact@oneofakind.fr
News
GABRIELLA SISMANN, Art to Wear
Art historian specializing in Renaissance sculpture, recognized art dealer for more than 25 years, Gabriela Sismann has always collected pieces of ancient goldsmithery. For some time, she began to divert brooches, plates and pads in silver, gold, vermeil and gold, to make jewelry. These unique pieces, chosen with rigor and an acute knowledge of their history, are thus revisited to become true modern ornaments. First designed for his personal pleasure, Gabriela's artist's jewelry can now be worn by all.
Photography ©Carla Van de Puttelaar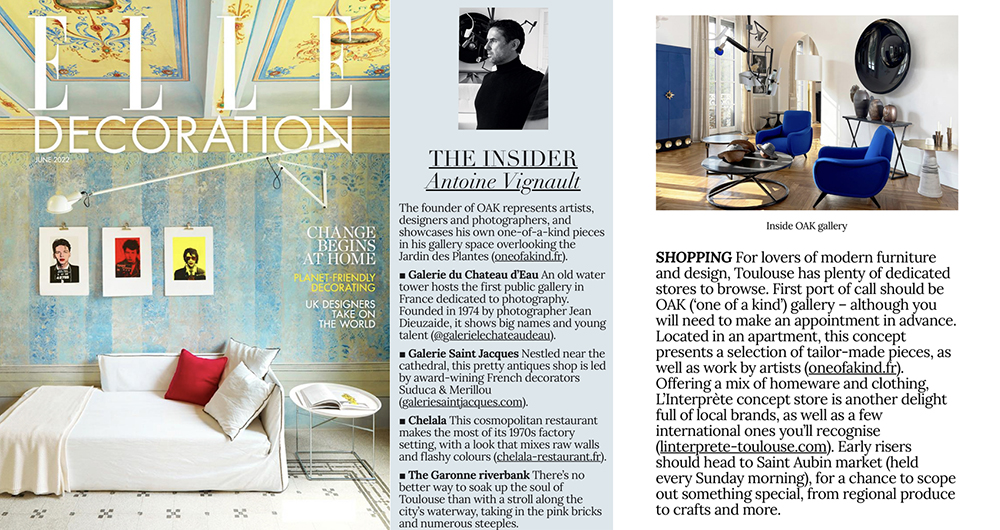 ELLE DECORATION UK / June 2022
Antoine Vignault, gallery owner and designer for the OAK gallery presents his best addresses in Toulouse to the English readers of ELLE DECORATION.
Find the cultural, shopping, design and gastronomy selection of the magazine's editorial staff as well as Antoine's favorites for this focus on the famous Pink City!
GETAWAY City Guide, Elle Decoration UK
Focus on
ÉTAGÈRE ZIG ZAG, JOËLLE FERLANDE ET FRANÇOIS MONNET POUR KAPPA/UGINOX (1971)
FAUTEUIL "UN JARDIN SUR L'OCEAN" ROUGE