COSMOGRAPHY 01
Référence : 113-1
---
---
100% wool carpet knotted by hand in Nepal. Daniela Busarello develops her own language in poetic landscapes where flesh and cosmos dialogue. A mixture of still life and self-portrait.
Length : 157.48 in / 400 cm
Height : 0 in / 0 cm
Width : 118.11 in / 300 cm
Weigth : 66.14 lb / 30 kg
Contact us / Get in touch
Categories: Decorative object, Carpets
Artist : Daniela Busarello
Material : 100% wool carpet knotted by hand in Nepal
Inspiration: Daniela Busarello develops her own language, "Cosmography", through sweetness, poetry, eroticism, feminine, visceral. It is a utopian-dreamlike landscape language specific to the artist. A language in which the infinitely large and the infinitely small clash and respond with an outrageously feminine sensuality. Dialogues between the flesh and the cosmos, observation of connected micro and macro-cosmos: naked bodies, nature, music, sensations, smells, representation-investigation of intimate memory. It is through the anthropophagy of reality that she builds landscapes… A mixture of a new being, still life and self-portraits.
Edition: 5 carpets per drawing, signed and numbered (8 different drawings)
Manufacturing time : 6 months
Guarantee: Signed and issued with a certificate of authenticity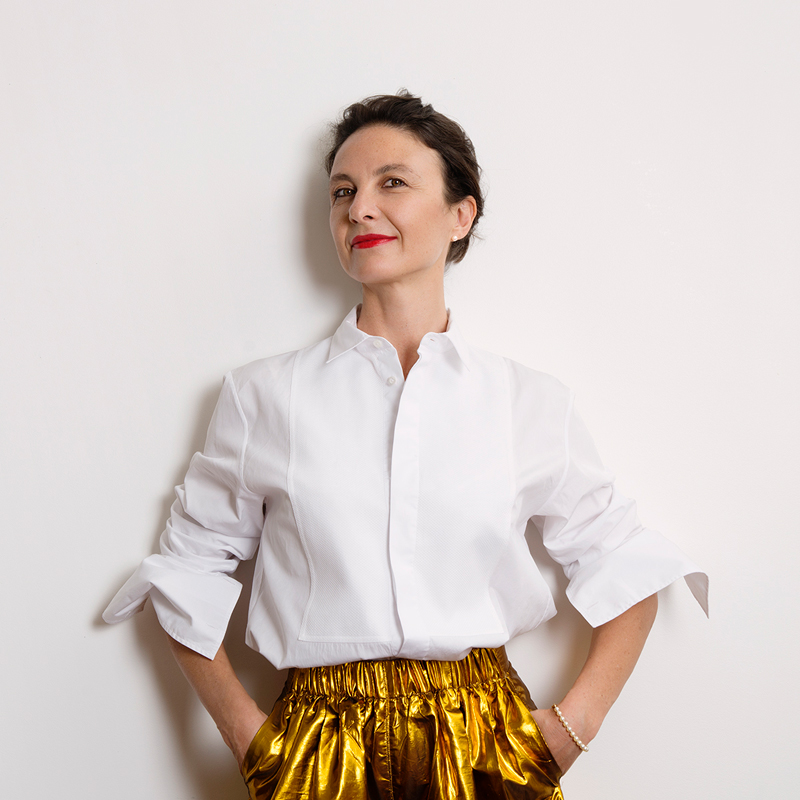 Daniela Busarello defines art as a force for change in oneself, others and the environment. 
Brazilian by birth, Parisian by adoption, Italian intermittently, she evolves in a cosmopolitan environment which gives her art both light and nature, vitality, reflection, precision and delicacy. Coming from a line of architects, she studied in Paris at the Louvre School and at the Beaux-Arts.
An artist concerned with restoring harmony between culture and ecosystem, she explores nature by bringing to it the point of view of a peaceful, unifying, syncretic feminine, carried by a cyclical vision of time. Her language confronts the infinitely large and small so that they respond to each other with sensuality.
In early 2021, the Mobilier National included in its collection two works by the artist, pieces one and two from the Anima Mundi series.